GURU PARAMPARA
Sanatana Dharma gives importance to the Guru Parampara (spiritual lineage of masters). Here we are giving a brief summary of the lineage of Swami Shantananda Puri Maharaj.
SRI RAMAKRISHNA PARAMAHAMSA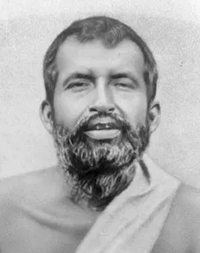 Sri Ramakrishna Paramahamsa, was born on 18th February, 1836, in the village of Kamarpukur, in Northwest Kolkata and his parents named him Gadadhar. As a child, he had a strong disinclination towards formal education and worldly affairs, and most of the time he was God intoxicated. His relatives got him married to Sarada, a girl from the village of Jayarambati in the year 1859. Sri Ramakrishna came to Dakshineshwar, a Kolkata suburb to assist his brother who was the priest of the Kali temple there and subsequently took over the priestly responsibilities. There he plunged into intense spiritual practices. Three years later, came a wandering monk named Totapuri, under whose guidance Sri Ramakrishna attained Nirvikalpa Samadhi, the highest spiritual experience mentioned in the Hindu Scriptures, and lived in this non-dual existence for six months without the least awareness of even his own body. Although he had been ordained a Sanyasin and observed the basic vows of a monk to perfection, outwardly, he lived like a lay man, humble and loving with childlike simplicity. Sri Ramakrishna's name as an illumined saint began to spread. He taught the householders how to realize God while living in the world. He trained the educated youths to become monks and to be the torchbearers of his message to mankind. The foremost among them was Rakhal, later known as Swami Brahmananda and Narendranath, later known as Swami Vivekananda. On 16th August 1886 Sri Ramakrishna gave up his physical body, uttering the name of the Divine Mother, and passed into Eternity. After his Mahasamadhi, his chief disciple Swami Vivekananda established the Ramakrishna Math and Swami Brahmananda was elected to be the head of the Ramakrishna Order.
SWAMI BRAHMANANDA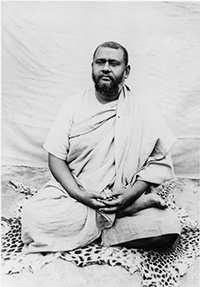 Swami Brahmananda was born on Januray 21, 1863, at a village near Calcutta. Being a devotee of Krishna, his mother named him Rakhal, 'the shepherd boy'. Rakhal was devoted to God since childhood. At the age of twelve, he met Narendra (Later known as Swami Vivekananda) and the two became very fond of each other. According to the custom prevalent in those days, he was married at the age of 18 to Vishweshwari. Soon after marriage, his brother- in- law, Manmohan Mitra, who was a close devotee of Sri Ramakrishna, took Rakhal to the Master. Prior to this, Sri Ramakrishna had had a vision in which he saw the Divine Mother showing him a child who would be his son. As soon as Rakhal came to Dakshineswar, Sri Ramakrishna recognised him to be that child, and understood that Rakhal was in fact his spiritual son, the one who would live up to the highest ideal of renunciation. After a few visits, Rakhal came to Dakshineshwar to live permanently with Sri Ramakrishna. Under the Master's guidance, he practised intense spiritual disciplines, and attained high levels of spiritual illumination. After the Master's Mahasamadhi in 1886 when the new Monastic brotherhood was formed at Baranagar, Rakhal joined it. He underwent sanyasa ordination and assumed the name Brahmananda. In 1897, when the Ramakrishna Mission was formed, Swami Brahmananda was elected as the President of the Calcutta centre, and later in 1902, he was made the head of the Ramakrishna Order and he held that office for more than twenty years, until his Mahasamadhi, on April 10th, 1922.
SWAMI PURUSHOTTAMANANDA PURI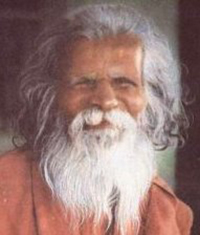 Swami Purushottamananda was born on November 23rd, 1879 in Tiruvalla, Kerala, to parents Parvati Amma and Narayan Nair. He was named Neelakantan by his parents. Though a bright student, he was forced to discontinue his studies at a young age, due to rheumatism and paralysis. Even as a boy he had a strong spiritual disposition and his physical ailments never deterred his steadfast devotion and faith in the Lord. He would study the Bhagavatham, while continuing to remain on bed rest and subsequently give discourses and lectures on the Text in the Sri Ramakrishna Sangh in Tiruvalla. In the year 1916, He had the good fortune of having darshan of Swami Nirmalanandaji , the then president of the Sri Ramakrishna Math, Bangalore, and Swamiji took him in as a disciple. Later the same year, he was given Mantra Deeksha by Swami Brahmanandaji Maharaj, the then President of the Sri Ramakrishna Mission, making him the grand disciple of Sri Ramakrishna Paramahamsa. In the year 1923, He was initiated into Sanyasa by Swami Shivanandaji Maharaj, the then President of Sri Ramakrishna Mission. Soon after taking Sanyasa, he left Ramakrishna Mission to follow the Divine call of his heart and chose to be a renunciate. He travelled to various pilgrimage centers and ultimately settled at Vasishta Guha, a tranquil and serene cave on the lap of the Ganges, about 22 kms from Rishikesh. He reached Vasishta Guha on June 20th, 1928. Intoxicated by its divinity and mystical energy, he continued to live in the Guha, until he attained Maha Samadhi on Maha Sivrathri Day on February 13th, 1961. Swami Purushottamanada had around 35 sannyasi disciples including Swami Shantananda Puri Maharaj.
Note: Autobiography of Swami Purushottamananda titled, 'The Story of Divine Compassion' is available for download.